Chi Wah Li's Job Success with Aspire Recruitment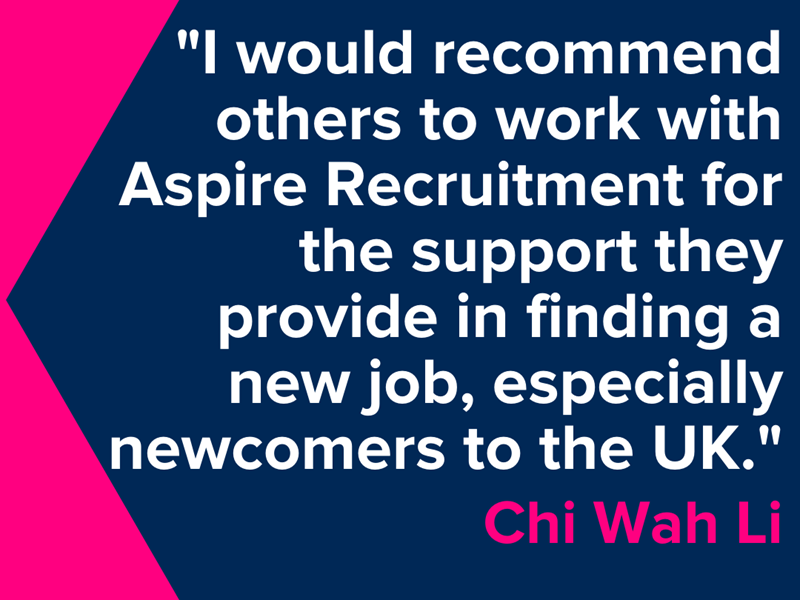 Chi Wah Li, 61, arrived in the UK having lived in Hong Kong and worked in Hong Kong her adult life. Like many people coming to the UK, finding employment is high on their priority list, which is why she approached Aspire Recruitment to assist.
Having worked in a variety of roles including within an office environment, as a factory operative and within the laundry services, Chi had a wide range of experience and transferrable skills which would be attractive to prospective employers.
Aspire Recruitment helped Chi to identify these skills and job opportunities which would suit her aspirations. In-addition, Chi speaks more than one language which is an incredibly desirable quality for any employer.
Chi was open to a variety of job opportunities which resulted in Aspire Recruitment securing her a role at Eccles Gateway as a Medical Receptionist.
Speaking about her new role Chi states that she is enjoying it very much because it's customer service-oriented and that her team have been very supportive of her; "I have had a very good experience with Aspire Recruitment. The staff helped to solve my issue of not having my Residence Permit and National Insurance Number on hand when I was offered a job. The staff have provided professional advice and have been very proactive. I appreciated their 'can do' attitude."
Chi continued; "I'd like to thank the Aspire Recruitment staff in helping with the DBS form application. I would also recommend others to work with Aspire Recruitment for the support they provide in finding a new job, especially newcomers to the UK.
If you're unsure about the next steps in your career, speak to our friendly team. They're on hand to help you consider all the avenues available to you. Get in touch today by clicking here.
Aspire Recruitment
Lee House
90 Great Bridgewater Street
Manchester
M1 5JW