Welcome to Aspire Recruitment
Aspire Recruitment is an award-winning Manchester-based inclusive agency. We are experts at helping businesses grow by providing the right candidates, offering a 360-degree recruitment process that focusses on understanding the needs of our clients. We have experience in Equality, Diversity, Inclusion and Belonging which means that we can really support our clients in their EDI aspirations - providing inclusive and diverse workforces for everyone we work with.
We help candidates to take charge of their career by providing a personal service which includes coaching, interview preparation and CV support.  With our expert team on hand - you will never be just a number to us.
We put the needs of our customers at the heart of everything we do and value diversity in the workplace
Specialisms
Aspire Recruitment works with business across a wide range of sectors specialising in employability and skills, business support and facilities. Find out more and speak to one of our sector specialists to discover more about how we can support your business.

Cynthia's journey towards owning her own business
Cynthia Timiebi Esiburu is a MSc Management Student at Manchester Metropolitan University. She aspires to own a successful business, as well as acquiring more skills for her future career. As part of her studies, she is required to undertake a one-year placement in an organisation, and Aspire Recruitment was there to help her pick the right one.

Aspire Recruitment secures 1,143 roles for people across Greater Manchester.
Over the years, Aspire Recruitment has proudly filled many vacancies across Greater Manchester, with skilled individuals just like you. This Employability Day 2022, we're reflecting on the work we've done over the past year, and celebrating our fantastic team, who have achieved 1,143 temporary and permanent work placements.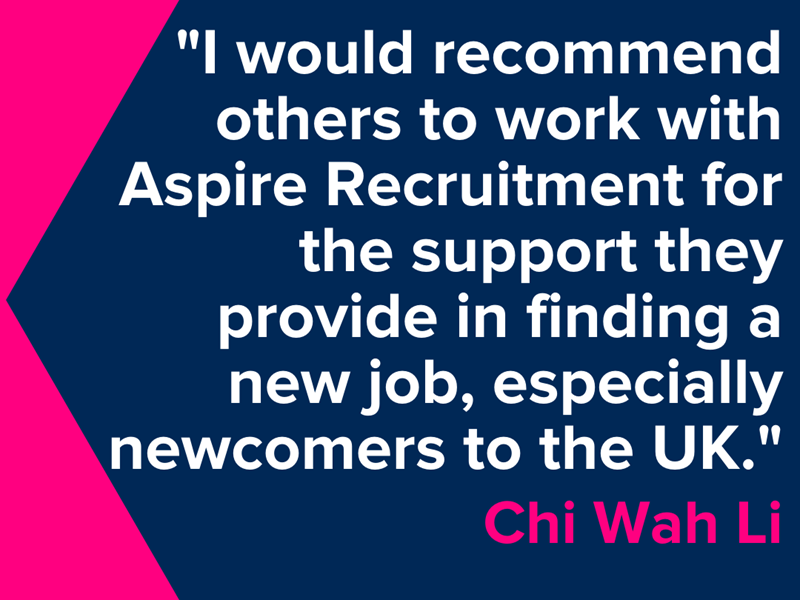 Chi Wah Li's Job Success with Aspire Recruitment
Chi Wah Li, 61, arrived in the UK having lived in Hong Kong and worked in Hong Kong her adult life. Like many people coming to the UK, finding employment is high on their priority list, which is why she approached Aspire Recruitment to assist.